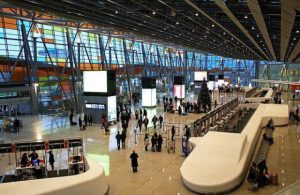 Transfer from Yerevan airport to Yerevan hotel.
We will meet you at Yerevan International Airport and take you to Yerevan.
We will wear a red scarf and wait for you at the information center.
Meeting the guests and giving the first impression to our guests is a great pleasure for us.
When we travel, nothing is more important than the first impression of the country and who met you there.
Even more, we can say airport transfer is some Art.
We always send the most experienced, intelligent, fun, and polite team members to do Airport transfers.
Most of the time, company ambassadors enjoy meeting our guests.
We want to do airport transfers for free, but we do it at a symbolic price because of many technical issues.
Inclusions:
Meeting in airport
Transportation service
Exclusions:
Space for ski equipment (If you have any, please inform us in advance)
Reviews Scores and Score Breakdown