First impression of Tbilisi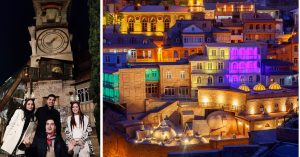 First impression of Tbilisi-3 hours walking tour with homemade wine tasting
Brief description
After arriving in Tbilisi, this tour is the perfect thing to start your holiday.
We are glad to give you the first impression of our capital city and give you many recommendations
which will inspire you for the next few days.
We start the walk from the Rose Revolution Square and go through Rustaveli avenue.
We see Tbilisi's most important and magnificent buildings, visit the heart of the city,
and walk down to the old town, which is one of the hottest rising destinations for travelers in recent years.
There's not enough space in this paragraph to describe all the important sites of Old City,
but with our friendly and knowledgeable guides, you can feel like you have a live google.
We finish our tour with wine tasting, an absolute must-do on your first day in Georgia.
Welcome to Tbilisi!
Inclusions:
Guide service 
Homemade wine tasting
Exclusions:
The cable car costs 1USD
Tips:
If you are a photographer, book this excursion at 7 AM.
Switched your camera to night mode, and book an excursion one more time at 6 PM
Detailed Itinerary 
Regarding your reservation time, we'll meet you near Radisson Blu Iveria at 07:00 am or 6 pm. 
Our company meeting point is located at Rose revolution square.
You will see the Big Bicycle monument and our tour leaders wearing a red scarf.
If you are coming by subway, the Shota Rustaveli metro is a 50-meter distance from the meeting point.
Because this is the central area, you have an extensive choice of hotels within walking distance.
If you prefer to take a hotel far from Tbilisi city center,
you can always use the Taxi app and come by car.
Taxi is exceptionally cheap in Georgia.
If you are a group of more than four people or live at our partner hotel,
we will pick you up 15 minutes before the meeting time and take you to the meeting point.
If you go to Paris, you must stroll the Champs Elysees,
and when you visit Tbilisi, this is the one avenue you must explore.
We explore Tbilisi's most important and magnificent buildings and
 many hotels, restaurants, cafes, and souvenirs.
We reach the main square of Georgia-Liberty square, which is at the heart of Tbilisi.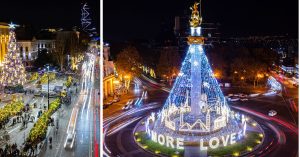 In 2010 Rezo Gabriadze built a unique clock tower next to the marionette theatre in Tbilisi's old town.
Every hour an angel comes out with a small hammer to ring the bell.
There is a small puppet theatre inside the tower, and twice a day, at 12:00 and 19:00,
you can see a show
– "The Circle of Life." Rezo decorated the tower with hundreds of tiles, which he designed himself,
and then it instantly became a prominent architectural attraction in Tbilisi.
People often call it the Tower with a clock or The Tower with an angel.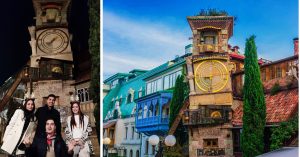 Bridge of Peace is the attraction one wouldn't want to miss in Tbilisi.
A pedestrian glass and steel bridge in a bow-shaped design sit over the Mtkvari river in the Georgian capital.
It was officially opened in May 2010.
The bridge was brought to Georgia from Italy in 200 unassembled components.
The bridge is 156 meters long and has more than 10 000 LED bulbs built-in that are switched
on daily 90 minutes before sunset. 
Vakhtang I Gorgasali, of the Chosroid dynasty, was a king of Iberia, natively known as Kartli,
in the second half of the 5th and first quarter of the 6th century.
Dating Vakhtang's reign is problematic. With the alliance to the Byzantine Empire,
he led his people into a lengthy struggle against Sasanian-Iranian hegemony,
which ended in Vakhtang's defeat and the weakening of the kingdom of Iberia.
Tradition also ascribes his reorganization
of the Georgian Orthodox Church and the foundation of Tbilisi, Georgia's modern capital.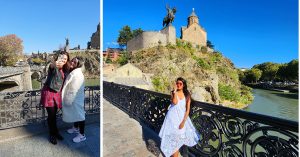 Ivane Javakhishvili assigns to Vakhtang's rule the dates c. 449–502, 
The "Abanotubani" is the name given to the district in the Old Town of Tbilisi.
There is a whole street (Abanos Kucha) of public bathhouses that use
the sulfurous waters of the many hot springs in this area.
Chreli Abano is a place for a sulfur bath that is so popular among tourists and Georgians.
The site looks like a mosque, but it's a sulfur bath; Nice to visit and have fun.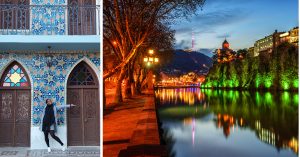 Narikala fortress is the most known landmark of Tbilisi.
No one leaves Tbilisi without walking around this impressive fortress.
You can feel the history of Tbilisi, even though the walls are not in great shape.
During the day, the Narikala Fortress draws your attention from all sides of Tbilisi.
It overlooks Mtkvari River, which makes Narikala more incredible.
Narikala is one of the most visited places in Tbilisi.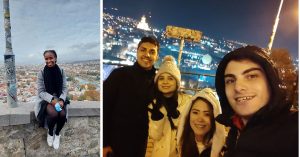 Mother of a Georgia, erroneously known as Kartlis Deda, is a monument in Georgia's capital Tbilisi,
which has become a city symbol.
The statue was erected on the top of Sololaki hill in 1958 when Tbilisi celebrated its 1500th anniversary.
Prominent Georgian sculptor Elguja Amashukeli designed the twenty-meter aluminum figure
of a woman in a Georgian national dress.
She symbolizes the Georgian national character: in her left hand,
she holds a bowl of wine to greet those who come as friends,
and in her right hand is a sword for those who come as enemies.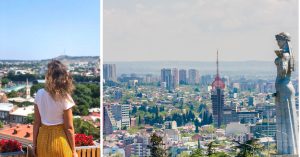 Marvel at the narrow streets and wooden balconies of the Old town.
We will walk in hidden streets, which are not easy to find for tourists.
We also walk at famous Shardeni street.
Shardeni Street is one of the most popular and beautiful streets in Tbilisi.
This pedestrian street is so well known that any guest that travels to Georgia never leaves this country
without visiting Shardeni Street.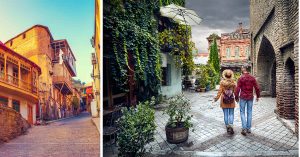 Reviews Scores and Score Breakdown