Highlights of Caucasus mountains
Brief description
The tour covers several breathtaking places along the way.
We can Easily Say that this is the highlight of your trip to Georgia.
You have so much fun with charming people laughing and dancing on the way.
The groups here are international; you can meet many incredible people.
(For solo travelers, it is a great option!).
Remember, it is a long ride, but no worries, our guides always create the mood and the atmosphere
of celebration with beautiful stories about Georgia.
This ride is challenging even for our safe and experienced drivers in winter.
We have some tips on what you should do in the winter.
First, be prepared for freezing weather, take everything warm you have, and get good sleep the night before.
Sometimes roads are blocked, and we cannot go beyond Gudauri, but in this case,
we have more time to spend at Gudauri ski resort, where you can try many activities like
paragliding ATV bikes, Horse riding, etc.
Inclusions:
Transportation service
Guide service 
Exclusions:
Food and drink
Optional 4WD car from Kazbegi to Gergeti.Extra 5-7USD per person.
Optional Rafting experience 50 USD.
Optional horse riding experience 20 USD.
Tips:
-Take sunscreen, an umbrella, extra clothes for rafting, warm jackets, and cash for the optional activities.
-Wear comfortable shoes.
Detailed Itinerary 
We'll meet you near Radisson Blu Iveria at 08:30 am.
Our company meeting point is located at Rose revolution square.
You will see the Big Bicycle monument and our tour leaders wearing a red scarf.
If you are coming by subway, the Shota Rustaveli metro is a 50-meter distance from the meeting point.
Because this is the central area, you have an extensive choice of hotels within walking distance.
If you prefer to take a hotel far from Tbilisi city center,
you can always use the Taxi app and come by car.
Taxi is exceptionally cheap in Georgia.
If you are a group of more than four people or you live at our partner hotel,
we will pick you up 15 minutes before the meeting time and take you to the meeting point.
-Please let us know during the check-in time.
If you are a Vegetarian, Vegan, etc.
If you are going to do any optional activities, like rafting, horse riding, etc.
If you have any restrictions about taking and using photos and videos for marketing.
After the check-in procedure, find a comfortable seat in the minibus before 8:55 am.
Are you ready to go?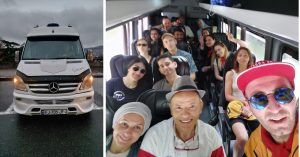 Let's go and see Paradise!
-Enjoy the calm beauty of the Zhinvali Reservoir.
Jinvali Reservoir is located Along the Georgian military highway.
Excellent place to take amazing pictures, with blue-colored water between three cordilleras.
This is a perfect place for landscape Photography;
there are breathtaking views of the fortress and Jinvali reservoir.
-Discover Ananuri, a fortress situated on the banks of the Aragvi River.
Ananuri fortress dates to the XVI-XVIII centuries and is situated on the foreland by the river Aragvi.
Ananuri was a castle and seat of Aragvi's Eristavis, a feudal dynasty that ruled the area from the 13th century.
The castle was the scene of numerous battles.
The fortress remained in use until the beginning of the 19th century.
In 2007, the complex was on the tentative list for inclusion in the UNESCO World Heritage Site program.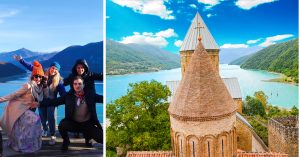 –Try horse riding in the Mountains.
The horse riding experience isn't our service.
That's why we can not guarantee service, but we will recommend the best organizer.
Their horses are highly trained and know how to work with tourists.
The horse riding experience duration is 30 minutes.
The horse riding experience is an extra cost of approximately 20 USD.
-Enjoy the rafting before lunch.
In case of good weather, you can try Rafting in Ananuri.
Rafting experience isn't our service, which is an extra cost of approximately 50 USD.
-Get the chance to sample traditional khinkali dumplings at the local restaurant.
Unique possibility to have lunch in beautiful nature.
Try super delicious, homemade, traditional dishes, and most important, Khinkali,
because you are in the homeland of these dumplings.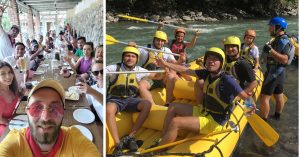 -Enjoy the snow in winter (15th Dec- 15th Mar).
Gudauri ski resort is located on Georgia's south-facing plateau of the Greater Caucasus Mountain Range.
The resort is situated in the Stepantsminda District, at an elevation of 2,200 meters, above sea level,
with a skiing area enjoying maximum exposure to the sun.
Gudauri is located in the heart of the Caucasus Mountains.
The resort takes on a new life as a fabulous sightseeing destination with fresh air and select areas
for horse riding, mountain biking, hiking, paragliding, etc.
-Gudauri is a photographer's dream in summer.
Even more!
It is Paradise for vloggers, bloggers, etc.
It is one of the best places where you can relax.
If you love meditation, you can do it in Gudauri.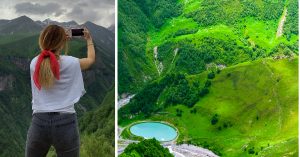 -Marvel at the medieval Gergeti Trinity Church and its mountainous surroundings.
Therefore in Kazbegi village, we can rent a 4WD car and visit Gergeti Trinity Church.
The local car cost is not included in the tour price because this is optional.
Group members, who wish to visit the church, need to collect around 7 USD per person.
Gergeti Trinity Church is a popular name for Holy Trinity Church near the village of Gergeti.
The church is situated on the right bank of the river Chkheri and under Mount Kazbegi.
The elevation is 2170 meters.
The Gergeti Trinity Church was built in the 14th century.
This is the only cross-cupola church in Khevi province.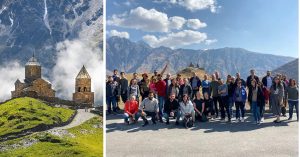 -Relaxing hour in Kazbegi Village.
Stepantsminda (Kazbegi) is known for its scenic location in the Greater Caucasus Mountains.
This is a center for trekkers and mountain climbing.
Local attractions include Mount Kazbegi and the alpine meadows and forests surrounding it.
Kazbegi Nature Reserve and Gergeti Trinity Church Outside of town.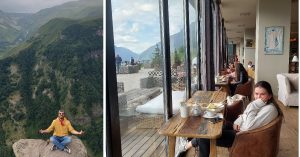 After finishing the experience, we recommend staying in Kazbegi.
We can drop you off at Rooms Hotel Kazbegi or any other comfortable hotel.
We arrive at Rooms hotel around 5:00 pm.
If you book the transfer from Kazbegi on any following day, you can return with another group.
Departure time from Rooms Hotel Kazbegi is every day at 7:00 pm.
Also, you can return to Tbilisi on the same day.
We have fun and arrive in Tbilisi at around 11 pm.
We will drop you off at Rose revolution square.
Thank you!
-Thank you for the good memories!
Reviews Scores and Score Breakdown