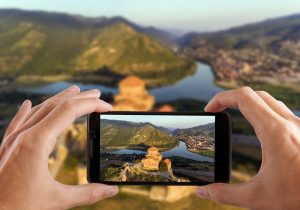 2 UNESCO sites in 4 hours- Ancient capital of Georgia
Brief description
There is not enough space in this paragraph to describe how unforgettable this 4 hours excursion is.
We will visit 2 UNESCO sites near Tbilisi and have fun. Everything about this tour is a hit.
We take you to places older than most of the sites you will see in most other countries in Europe.
6th Century Monastery,11th Century Church, and the ancient capital of Georgia.
You feel the Georgian history and culture in the beautiful countryside.
The views from all the visited places are breathtaking.
This short excursion is an excellent opportunity to meet other travelers at the beginning of your holiday.
During these four hours, you also will meet the company's fantastic,
knowledgeable, super-cool tour guides. 
All team members of our company are highly informative but also hilarious and fun.
We try to tell you many exciting stories about the places and in general.
Inclusions:
Guide service
Transportation service
Exclusions:
Hotel pick-up and drop-off.
(Service Included if you are a group of 4 or more or live at our partner hotels)
Tips:
-Take scarves with you to visit the monastery.
-Take cash with you if you buy local souvenirs or local foods.
.
Detailed Itinerary 
Regarding your reservation time, we'll meet you near Radisson Blu Iveria at 09:30 am or 1:30 pm.
Our company meeting point is located at Rose revolution square.
You will see the Big Bicycle monument and our tour leaders wearing a red scarf.
If you are coming by subway, the Shota Rustaveli metro is a 50-meter distance from the meeting point.
Because this is the central area, you have an extensive choice of hotels within walking distance.
If you prefer to take a hotel far from Tbilisi city center,
you can always use the Taxi app and come by car.
Taxi is exceptionally cheap in Georgia.
If you are a group of more than four people or you live at our partner hotel,
we will pick you up 15 minutes before the meeting time and take you to the meeting point.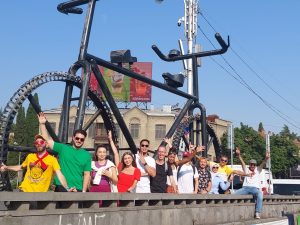 -Enjoy the view from Jvari monastery.
After 30 minutes drive from Tbilisi, we will arrive at Jvari Monastery.
Sometimes there is traffic in the city, and diving takes more time.
The name of this monastery is translated as the "Monastery of the Cross."
Jvari Monastery is a sixth-century Georgian Orthodox monastery near Mtskheta.
Along with other historic structures of Mtskheta, UNESCO lists it as a World Heritage site.
Jvari Monastery stands on the rocky mountaintop at the confluence of the Mtkvari and Aragvi rivers,
overlooking the town of Mtskheta, formerly the capital of the Kingdom of Iberia.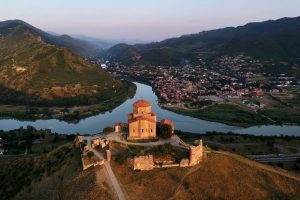 -Visit the ancient capital of Georgia.
After a 20-minute drive from Jvari monastery, we will arrive at Svetitskhoveli in Mtskheta.
Mtskheta is one of the oldest cities in Georgia, founded by the ancient Meschian tribes in the 5th century.
Due to its historical significance and several cultural monuments,
it is recognized by UNESCO as a World Heritage Site.
It was the capital of the early Georgian Kingdom of Iberia from the 3rd century BC to the 5th century AD.
However, Mtskheta continued to serve as the coronation and burial place for most Georgia kings
until the kingdom's end in the 19th century.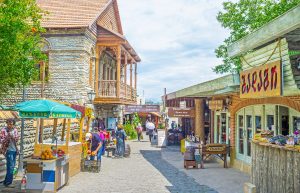 The Svetitskhoveli Cathedral (literally the Cathedral of the Living Pillar) is currently the second-largest
church building in Georgia after the Holy Trinity Cathedral.
Known as the burial site of Christ's mantle, Svetitskhoveli has long been one of the principal Georgian
Orthodox churches and is among the region's most venerated places of worship.
After visiting the church, we have around 1-hour of free time in Mtskheta, which you can use for shopping,
wine tasting, boat trips, or other activities. 
Regarding your tour start times, we will return to Tbilisi at 2 or 6 pm.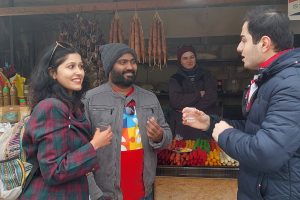 Reviews Scores and Score Breakdown