Kakheti wine region
Brief description
Today we will visit the Kakheti region.
We have wine tasting on the way in the biggest winery, KTW, where we taste five types of wines.
Then continue exploring Village Badiauri, Bodbe Monastery, and Sighnaghi-city of Love.
Only this tour allows you to examine Signagi thoroughly and have enough time to feel the city.
We have almost an hour to visit
a small local winery and Sighnaghi wall.
Enjoy Zipline and incomparable views.
Relax and take amazing photos.
Walk a bit and meet new friends.
Inclusions:
Transportation service
Guide service
Seven glasses of wine tasting
Exclusions:
Food and Drink
Tips:
-In a wine factory can be low temperatures so take your jacket.
-Take your bottle of water to drink between wine tastings.
-Take sunscreen, an umbrella, extra clothes, warm jackets, and cash for the optional activities.
-Wear comfortable shoes.
Detailed Itinerary 
We'll meet you near Radisson Blu Iveria at 10:30 am.
Our company meeting point is located at Rose revolution square.
You will see the Big Bicycle monument and our tour leaders wearing a red scarf.
If you are coming by subway, the Shota Rustaveli metro is a 50-meter distance from the meeting point.
Because this is the central area, you have an extensive choice of hotels within walking distance.
If you prefer to take a hotel far from Tbilisi city center,
you can always use the Taxi app and come by car.
Taxi is exceptionally cheap in Georgia.
If you are a group of more than four people or you live at our partner hotel,
we will pick you up 15 minutes before the meeting time and take you to the meeting point.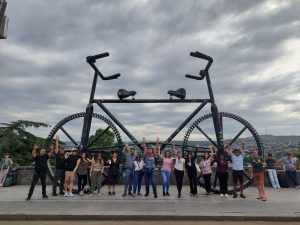 -Have wine tasting in the biggest winery.
Kakhetian Traditional Winemaking Factory (Kakhetian Traditional Winemaking" is one of the
most extensive wine and spirits-producing companies in Georgia and the Caucasus region.
Established in 2001, KTW produces brandy, sparkling wine, and chacha with traditional Georgian
techniques mixed with the state of art technologies.
This allows the company to preserve an old, unique wine taste and create
its signature style to spread to the world.
We can visit the wine factory and try five types of Georgian wine and ten years of Brandy. 
-Taste fresh bred and chacha in the village of Badiauri.
Learning how to make good bread with flour, water, yeast, and salt is not easy.
At least you can see the process, and then you decide will try or not.
Some of our guests have explored special skills of themselves.
Usually, Kakhetians love to eat hot bread and cheese together.
Here in the village, you have a good choice of cheese.
Also, homemade chacha is the best drink in Kakheti.
Chacha is a Georgian pomace brandy, clear and strong, which is sometimes called "grappa."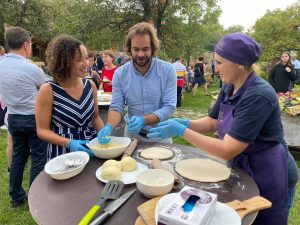 -Visit Bodbe monastery.
The monastery of St. Nino is located in the village of Bodbe, in the Sighnaghi region, Kakheti.
The monastery's territory is decorated with flower beds, bushes, vineyards, and a healing spring.
The history of the sanctuary is closely connected with the adoption of Christianity.
According to the legend, after adopting Christianity, King Miriani had a dream: four stars flew across
the four mountains of Georgia, and one of the rays was near Bobde.
Nino went there to put a cross on that very place.
She lived very modestly in a tent where she died. She was buried in the area where her tent was.
At the beginning of the IV century, a monastery was built on the site of the tent.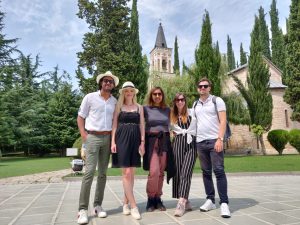 -Explore the city of love.
Signagi is a small beautiful town in the Kakhetian region.
About ten years ago, it was the forgotten dull town.
After extensive restoration, it became a delightful civilized tourist center with cobbled streets and cozy houses
with bright red tile roofs. The town's architecture is made in the style of southern Italian classicism.
Several hotels and guest houses have also been built, corresponding to tastes and preferences.
Signagi is also known as "the town of love," and the reason is that there is a unique wedding house
where you can get married at any time without prior delivery of documents.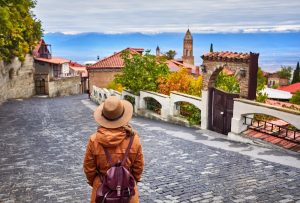 -Taste homemade wine at a local family house.
We will visit a local family in Sighnaghi.
This is a unique experience.
You can taste several homemade drinks at the family wine cellar.
Homemade Kindzmarauli wine is highlighted here.
We also recommend tasting peach vodka and chacha.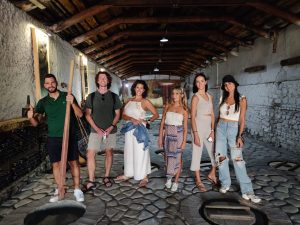 -Enjoy the views from the Sighnaghi wall.
Before taking you back to Tbilisi, we can walk on the Sighnaghi wall.
In most seasons, this is sunset time and the best time to enjoy the views.
In sunny weather, we can see the sunset.
We return to Tbilisi at around 6 PM.
If you did not do the Tbilisi walking tour yet, you still have a chance to join. It is recommended.
We will drop you off at Rose revolution square.
We hope you had an enjoyable day.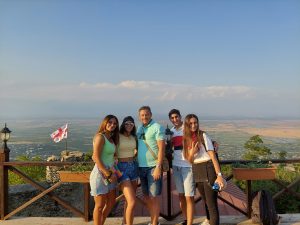 Reviews Scores and Score Breakdown