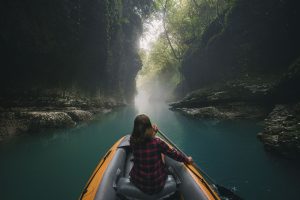 Imereti and Samegrelo Regions
Brief description
This tour takes you to famous Georgian regions. Imereti and Samegrelo .
Both regions are famous for their delicious foods, incredible canyons, and caves.
If you have a departure flight from Kutaisi, book this tour the day before from Tbilisi.
This tour starts early at 6:30 AM and can finish at Kutaisi airport at 5 pm or 10 pm in Tbilisi.
If you start this tour from Tbilisi and finish in Tbilisi, be ready for a long day.
Inclusions:
Transportation service
Guide service 
Exclusions:
Food and drink
A ticket for Martvili Canyon (17.25 GEL – about 5.5 USD per person)
A ticket for Prometheus Cave (23 GEL – about 7 USD per person)
Tips:
The tour does not operate in all weather conditions.
Therefore, please dress according to the weather.
Boat trips aren't available in bad weather.
Please ask lunch box at the hotel reception on the day before.
Detailed Itinerary 
We'll meet you near Radisson Blu Iveria at 06:15 am.
Our company meeting point is located at Rose revolution square.
You will see the Big Bicycle monument and our tour leaders wearing a red scarf.
If you are coming by subway, the Shota Rustaveli metro is a 50-meter distance from the meeting point.
Because this is the central area, you have an extensive choice of hotels within walking distance.
If you prefer to take a hotel far from Tbilisi city center,
you can always use the Taxi app and come by car.
Taxi is exceptionally cheap in Georgia.
If you are a group of more than four people or you live at our partner hotel,
we will pick you up 15 minutes before the meeting time and take you to the meeting point.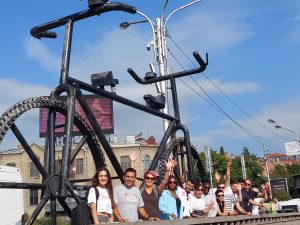 -Enjoy visiting waterfalls.
This wonderful place is located in the Samegrelo-Zemo Svaneti region, Georgia.
The small city of Martvili is just half an hour away from Kutaisi.
Martvili district is truly one of the most gorgeous places in Georgia – combining a unique natural environment.
You will be shocked by brilliant scenery, sensational waterfalls, and a boat trip in the river with deep green color.
You can take a boat with a boatman, and he will take you on an unforgettable journey in the canyon.
The walls of the canyons are covered with moss.
Martvili Canyon is a fantastic place to adventure with family, friends, and co-workers.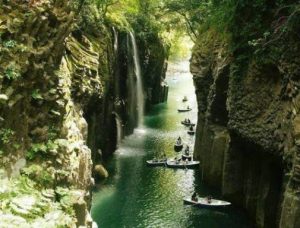 -Visit Kumistavi (Prometheus Cave), the most magnificent cave in Georgia.
Kumistavi owes a famous myth about Amirani for the sonorous naming of the "Cave of Prometheus."
The legend says that Amirani, like Prometheus, angered the Gods and was punished brutally.
The eagle tormented him, eating his liver; however, unlike the Greek giant, cruel Gods chained
Amirani, not to the rock, but inside a massive cave.
Khvamli Mountain is visible from Prometheus Cave, where the legend says that Prometheus was chained.
Spectacular views of stalactites, stalagmites, petrified waterfalls, underground rivers, and cave lakes.
The cave has colorful lights, ranging from orange-red to pink and blue.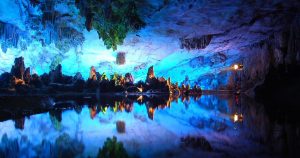 Reviews Scores and Score Breakdown